ESGinVC Interview Series: The extract below is from the interview with David Teten, CEO at Versatile VC .
Already published: Fabian Heilemann (Earlybird, Leaders For Climate Action), Kanyi Maqubela (Kindred Ventures) .
Coming soon: Liz Broderick & Chrys Chrysanthou (Kindred Capital), Farooq Abbasi (Preface Ventures), Kinga Stanislawska (Experior VC & European Women in VC), Bettina Denis (Gaia Capital Partners), Ha Duong (Ocean Investment), Andreas Surya & Richie Wirjan (Kejora Ventures) and Catherine Dupéré (Isomer Capital).
—
In your career in tech and VC, how has your focus on ESG responsibility changed over time?
There's an old line from Victor Hugo: "If a man is not a [liberal] at twenty, it is because he has no heart, and if he is one at forty, it is because he has no brains." To some extent, I've followed the reverse path.
Earlier in my career, I thought of myself as a libertarian and didn't spend many calories thinking about the ESG impact of my work. But then I had a family, and I realized that many of our biggest social challenges have no libertarian solution, and no one has built a functioning libertarian society. A lot of these challenges became grossly apparent in 2020: social instability, climate crisis, public health crises, national security crises, disinformation. If I don't think through the social implications of my work, then I'm free-riding on the hard work everyone else around me has done to make a livable society. In the short run, I might make more money by ignoring all my social responsibilities. But in the longer run, the result is a dysfunctional society.


"If I don't think through the social implications of my work, then I'm free-riding on the hard work everyone else around me has done to make a livable society"
One of the impact initiatives I'm proudest of is founding Harvard Business School Alumni Angels of New York, a nonprofit and now the East Coast's largest angel group. When we launched in 2010, I saw white space: a burgeoning NY tech ecosystem, but only one other angel group regularly writing checks. In that capacity, I co-founded the Harvard Business School Alumni Angels Venture Capital Access Program, a joint venture with the National Association of Investment Companies ("NAIC"), which helps women and diverse entrepreneurs raise capital.
Have you ever faced ethical challenges when investing? How have you handled them?
Who hasn't? I think the most common ethical issue in VC is when I'm talking with another possible investor in a portfolio company. For every company I've invested in, I can talk about why we invested. For most, I can talk about why I'm enthusiastic about investing more money. But for all, I can also talk about concerns I have and reasons the company may fail.


"My general rule is not to say anything I wouldn't say to management directly."

A key skill set in VC is working with other investors. CEOs come and go, but the other investors keep playing the game. So the question is, how transparent should I be in discussing my concerns about a given company and its management?
My general rule is not to say anything I wouldn't say to management directly. In my dialogue with management, I'll typically share my concerns about the business and we'll work together to mitigate those concerns. Similarly, when talking with other possible follow-on investors, a common phrase I'll use is: "I'll tell you the same concern I shared with management: I'm worried about…."
In an article you wrote for Techcrunch in 2019 about revenue-based investing you mentioned that "traditional equity VC is biased structurally against some women and underrepresented founders". Why is that?
The Boston Consulting Group and MassChallenge, a US-based global network of accelerators, partnered to study why "women-owned startups are a better bet". BCG identified three primary reasons why female founders are less likely to receive VC funds:
· Less need for a belief in breakthrough technology. From the study: "More than men, women founders and their presentations are subject to challenges and pushback.
· Realistic projections. "Male founders are more likely to make bold projections and assumptions in their pitches.
· Concentration in consumer/branded products startups. BCG reports that, "Many male investors have little familiarity with the products and services that women-founded businesses market to other women."
What should VC leaders do to eliminate such biases?
You will never completely eliminate biases, which are another word for pattern recognition. I try to train myself against committing a cognitive error, and adjust my thinking accordingly.
I have a strong bias to structurally color-blind/gender-blind solutions to social problems, as opposed to solutions that look at someone's race/gender/etc. and then make decisions. I am friendly with a number of VC funds that specialize in investing in women only, or only African-Americans, etc. However, I know many founders who happen to be women or African-Americans and who would rather not get capital just because they're in a certain demographic bucket. They want to raise capital because they are highly qualified, period.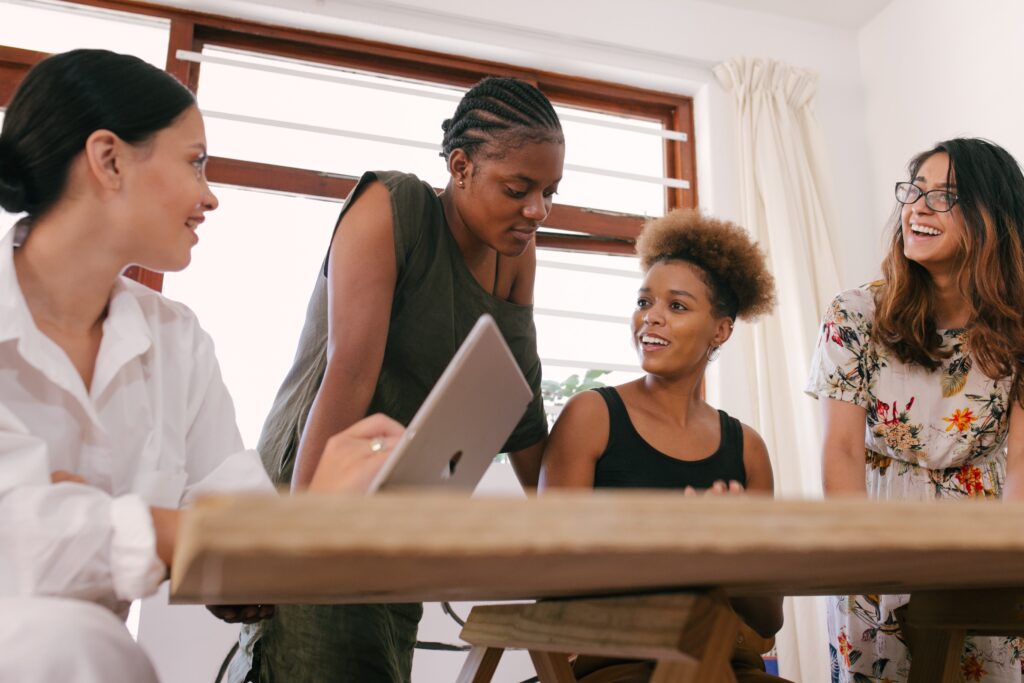 One example of a structural solution is targeted outreach. I was previously a Partner at two different VC firms, neither of which had any contractual LP mandate to invest in diverse companies. However, both firms funded as founders more women, African-American, Latinx, and other underrepresented backgrounds than is the norm for the venture capital industry. The reason was that at both firms, we made targeted efforts to proactively market to communities of underrepresented founders. The results were more diverse inbound deal flow, and which we assessed using a neutral filter.


"…Revenue-Based VCs are disproportionately investing in women & underrepresented founders…"
Another example of a structural solution is the "alternative VC" or "Revenue-Based Investing" structure that we frequently use. My research has found that Revenue-Based VCs are disproportionately investing in women & underrepresented founders, despite not having (in most cases) any LP mandate to do so. I'd argue it's not that revenue-based investing is so unbiased and attractive; it's that traditional equity VC is biased structurally against some women and underrepresented founders.
Traditional equity VCs are looking for high-risk, high-reward, "swing for the fences" models. The founders of such companies inherently are taking a financial risk, reputational risk, and career risk. The people who can afford to take those great risks are typically people with the greatest privilege in society. That privilege makes it easier for them to take very high risks. The average person, worried about student loans and long-term employability, quite rationally is less likely to take the huge risk of founding a company. It's far safer to just get a job.
Founders raising with a Revenue-Based Investing structure are not obliged to take as great risks, and so the structure is more attractive to people who come from a position of less privilege.
What advice would you give to female and underrepresented founders looking for investments?
I'm hesitant to "mansplain" this answer. The real experts are not me, but the female and underrepresented founders I've backed.
—
With our ##ESGinVCinitiative, we want to foster a discussion around ESG and help each other develop and improve our frameworks. As part of this initiative, we spoke to leading managers and LPs about their ESG frameworks. The long-form interviews will be published in a reader on our website, while we will regularly post interview extracts on our social media channels (Linkedin — Twitter — Medium). 
About David Teten
David Teten is CEO of Versatile VC, a venture capital fund. He has previously advised such institutional investors as Birch Hill Equity Partners, Goldman Sachs Special Situations Group, Icahn Enterprises, LLR Partners, Right Side Capital, and Orascom TMT Investments.  He was previously a Managing Partner with HOF Capital, a venture capital fund backed by over 70 families and organizations across 21 countries. He was also a Partner with ff Venture Capital, one of the best-performing seed- and early-stage venture capital firms in the U.S. He has served on the boards of Authorea (sold to Wiley), Earnest Research (Observer), Ionic Security, Signup.com, and Whisk (sold to Deem). David has particular interest in fintech, sales tech, and education technology. He writes occasionally at teten.com. 

About Versatile VC 
Versatile VC is an early-stage venture capital fund in New York, with initial focus on East Coast fintech. They have four unique advantages: 
1) Their founder's 9 years of VC experience, as a Partner at ff Venture Capital and HOF Capital; 
2) A sophisticated internal technology stack, allowing them to deliver "operational alpha"; 
3) Flexibility to use "alternative VC" structures, particularly a new structure which allows founders optionality to either raise a traditional VC round after them, or buy them out over time; and 
4) Their community of founders in transition, "Founders' Next Move".  
About Marco Cesare Solinas
Marco is an Analyst at Blue Future Partners, where he is responsible for sourcing and analysing new investment opportunities. He is passionate about Technology and Venture Capital and making an impact with investments. He focuses on both direct and indirect investments.
Previously, he has built an international and multicultural background across Italy, US, Germany, Turkey and Malaysia. Marco holds a CEMS Master's in International Management and a Bachelor in Economics and Finance from Bocconi University.
Linkedin – Twitter – Medium
About Blue Future Partners
Blue Future Partners is a Fund of Funds with decades worth of experience in investing in Venture Capital. We specialize in backing Emerging Managers focused on early stage technology investments. We are people-centric and relationship-driven. We have a global mandate and existing relationships with Emerging Managers in the US, Europe, Israel, China and South East Asia.
Website – Linkedin – Twitter – Medium