What drives VC investments in HealthTech? How do digital health companies prove their value? And which sub-verticals are investors most excited about?
This is the second article of our two-part look into the Digital Health industry. While part 1 examined the evolution of healthcare and the most important HealthTech verticals, this article highlights the most important trends transforming healthcare today, while giving a comprehensive overview of the investing landscape.
Why HealthTech?
VCs are increasingly getting interested in the healthcare sector. They are looking to back founders that align their value proposition with the present and future of healthcare, while deploying technology as the cornerstone. According to a survey by Deloitte, VC investors repeatedly underlined that healthcare organizations should strive to enhance care quality, to reduce cost and to improve access to care through telemedicine.
Among the most significant value propositions delivered by digital health technologies is the reduction of healthcare costs. Providing more effective therapies or offering remote patient support account for one of the largest measurable opportunities for cost-saving. The same applies to technologies such as workflow automation and care coordination tools, which directly improve operational efficiency and thus productivity for healthcare stakeholders. Wellness & disease prevention and screening & diagnosis companies do not generate direct cost reductions, but are more likely to demonstrate their value by publishing research and obtaining patents for innovative technologies.
Most important Healthcare Trends
Upcoming trends point to future opportunities for innovators and define VC investment strategies.

1. Consumer readiness to use telehealth rose to 66%. Health systems reported that up to 40% of primary care visits may be delivered virtually. It is now obvious that telehealth can improve efficiency and lower costs, while providing broader access to care and decreasing patient demand on facilities.
Investments in telemedicine solutions grew nearly threefold between 2019 and 2020, increasing from $1.1 billion to $3.1 billion.

2. Digital health tools and wearables will play an even more important role in patient monitoring, providing support and tracking health in the comfort of their own homes. Overall funding for remote patient monitoring services has more than doubled between 2019 and 2020 – from $417 million to $941 million.

3. In these precarious times, investment in tracking, reporting, and accessing mental health solutions has grown. In the United States, 50 million people struggle with mental health difficulties. Due to the ongoing pandemic, this number has continued to rise as people experience anxiety, financial stress, and isolation.
Technology is seen as a source of hope, as funding for mental health services expanded from $599 million to $1.4 billion in 2020.

4. Healthcare investors are on the hunt for solutions that unite customer experience with effective healthcare delivery to ensure a seamless patient journey. Consumers are demanding a streamlined digital experience for scheduling appointments, requesting medications, and obtaining follow-up communications. Consumer-centric companies in general saw an increase of $9.6 billion in 2020, up 81% YoY.
Status Quo of Digital Health
Average size of funding round by stage
In H1 2021, growth funds in particular invested more actively in digital health than in the past. When comparing to 2020, the average size of funding rounds for series D+ deals has increased the largest of all phases from $76M to $131M. Series C went up from $71M to $80M, Series B climbed from $35M to $46M and Series A rose from $12M to $17M.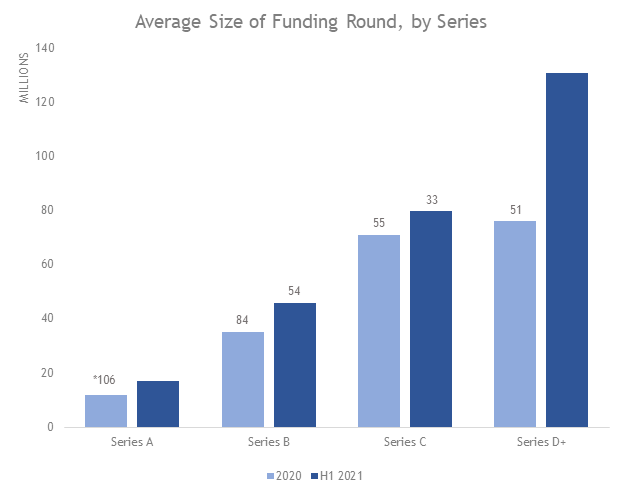 Deals by Stage
In Q2 2021, early-stage deal share was pushed above 50%, whereas the deal volume in late-stage phases dropped back to 8%. During the first 6 months of this year, a total of 372 deals were closed, including 48 marked as mega deals, representing 59% of the total H1 2021 funding volume. One of these megadeals was weight loss app Noom, which raised $540 million in a Series F round at a $3.7 billion valuation in May, according to Bloomberg. Virtual primary care, pharmacy and in-home care startup Ro was close behind with $500 million in Series D and a shiny $5 billion valuation. AI-driven drug discovery company Insitro came in third with its mammoth funding of $400 million in a Series C round in March this year.
Given that the digital health sector was still in its early stages a few years ago, this kind of mega-rounds and billion valuations didn't exist yet. Back then, we saw a "baby boom" of digital health startups which are now in a later stage of growth, raising C, D, and E rounds.
Well known VC funds like Silver Lake, Sequoia Capital, General Catalyst, TQ Ventures, a16z and SoftBank, to name a few, contributed to those mega deals.
HealthTech Unicorns
As of March 3, 2021, there are 51 healthcare unicorns, valued at $1 billion or above, worldwide. Below are the nine digital health startups that reached the $1 billion milestone in 2020 and early 2021 and are poised to transform the healthcare industry:
Cityblock Health (Series C $192) aims to enhance healthcare for low-income patients through its social support services.
Whoop (Series E $100M) produces a health and fitness wristband that, as one of its features, is designed to help detect COVID-19 symptoms by recording an elevated respiratory rate.
Grand Rounds Health (Series E $175) offers an on-demand virtual health-care assistant to employees of large and medium-sized companies as an employer benefit.
Olive (Series H $400M) builds automation technology incorporating AI for healthcare workers.
DispatchHealth (Series D $200M) clinicians and emergency medicine-trained physicians, treat patients in their own homes.
Virta Health (Series E $133M) combines virtual care and ketogenic diet to support diabetic patients.
Cedar (Series D $200M) is developing a software to assist patients in managing and following up on billing and payments for medical visits – a process that in the past may have been chaotic for patients.
Lyra (Series F $200M) is a mental health unicorn that collaborates with companies to offer improved benefits for employees.
Ro (Series D $500) is a D2C provider, operating in the telehealth area.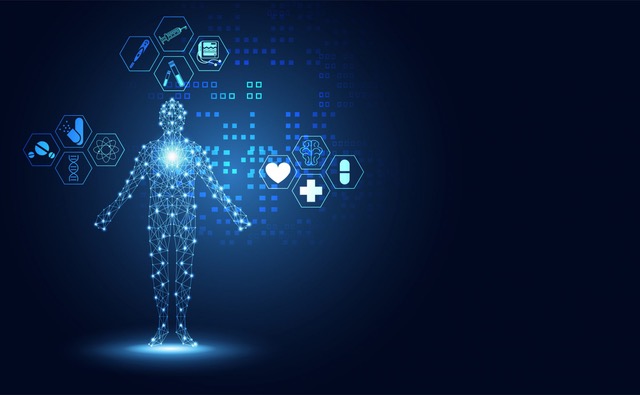 Digital Health Exits (IPOs, SPACs & M&As)
Digital health companies are continuing their journey to the public markets with SPAC deals and traditional IPOs. Mergers and acquisitions are also maintaining the pace, as tech giants such as Amazon, Google and Apple joined established digital health companies in buying up promising startups. While private markets are bullish, investors in the public market are starting to cautiously slam on the brakes. For the 18 digital health companies that have gone public since early last year, average stock returns dropped below NASDAQ levels in the second quarter. However, for the companies that went public before 2020, average returns for all are on par with or above the NASDAQ to date.
So far this year, 12 companies have gone public (2 SPACs, 10 IPOs). Companies that went public via IPO this year include Bright Health, providing telehealth services; Doximity, an online social network for physicians; and Dialogue Health Technologies, a virtual health and wellness platform.
The year 2020 witnessed a sharp increase in the formation of Special Purpose Acquisition Companies (SPACs) as COVID-19 caused uncertainties in the public markets. In late 2020 and early 2021 late-stage (Series D+) healthcare unicorns – including Butterfly Network, 23andMe and Hims & Hers – opted for SPACs as an IPO option under the potential upside of a quicker and more reliable exit. By the end of the year, further 11 announced exits of Digital Health companies are expected. All of these 11 announced exits currently choose the SPAC strategy as their exit vehicle.
In the first half of 2021, 131 mergers and acquisitions occurred in the digital health sector, with an average of 22 deals per month, up from last year's monthly average of 12. In total, the number of mergers and acquisitions in 2021 will multiply by 1.8 times compared to 2020. Digital health companies in particular will continue to be the leading acquirers of other digital health companies.
The future of healthcare
Given the shifting landscape in light of the impact of the COVID-19 pandemic, new entrants from the startup community, along with enterprise players, are expected to continue to push the boundaries of direct-to-consumer (DTC) possibilities such as digital diagnostics, home health and wellness and connected experiences throughout the patient journey.
Digital health growth will persist in the future, with the potential to improve patient satisfaction, reduce cost drivers, enhance the clinical experience, and achieve better outcomes.
It's an exciting period to be a part of the digital health industry in this phase of notable growth and maturity.
—
About Christina Senn
Christina is currently working as Associate at Segenia Capital within the venture capital team. While working at Blue Future Partners, she discovered her passion for the HealthTech ecosystem and is eager to learn more. She is happy to connect with people and build a network.